The Tian Tan Buddha, commonly referred to as the Big Buddha, stands tall and proud, symbolizing the tranquility, spirituality, and rich cultural heritage of Hong Kong. This magnificent bronze statue is situated on Lantau Island and is truly awe-inspiring. I will provide you with detailed insights into my visit to the Tian Tan Buddha, including personal experiences, travel tips, and planning suggestions, to ensure you have an unforgettable and enjoyable day at this extraordinary attraction.
Exploring Prominent Attractions
Before we dive into the specifics of planning your visit to the Tian Tan Buddha, it's crucial to understand the key attractions at this sacred location.
The Tian Tan Buddha
Rising to a height of 34 meters (112 feet), the Tian Tan Buddha is the focal point of Ngong Ping. This colossal bronze statue represents Sakyamuni, the founder of Buddhism, seated gracefully on a lotus throne. The presence of the Big Buddha is not only awe-inspiring but also exudes a palpable sense of tranquility.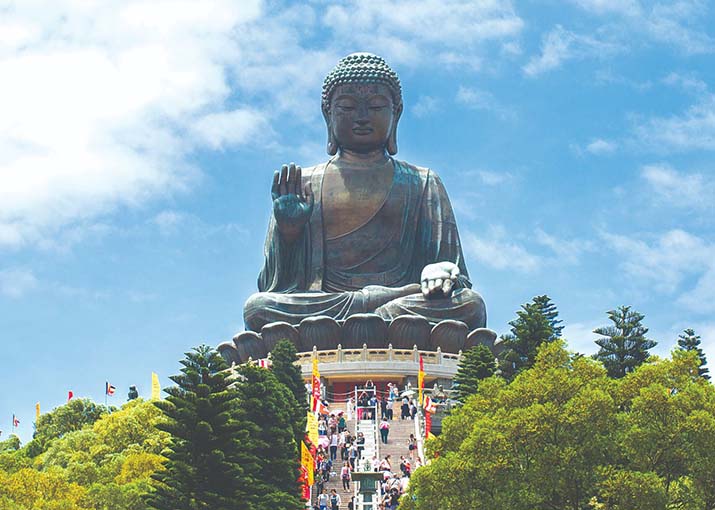 Po Lin Monastery
Po Lin Monastery, located in close proximity to the Tian Tan Buddha, stands as a prominent and cherished Buddhist sanctuary in the heart of Hong Kong. Established in the year 1906, this monastery is not only an iconic religious institution but also a testament to remarkable architectural beauty, immaculately landscaped gardens, and a thriving hub for vibrant religious ceremonies and rituals.
The monastery's architectural design is a breathtaking fusion of traditional Chinese architectural elements, reflecting intricate craftsmanship and a profound sense of devotion. Its ornate halls, adorned with intricate carvings and colorful murals, provide a captivating journey into the rich tapestry of Buddhist art and culture.
Po Lin Monastery is not just a place of worship; it is an oasis of serenity and spirituality. As you wander through its well-maintained gardens, you'll be enveloped by a sense of peace and tranquility, enhanced by the harmonious sounds of prayer bells and the fragrant aroma of incense wafting through the air. The carefully tended lotus ponds, home to vibrant koi fish, add to the charm of this serene retreat.
One of the most captivating aspects of Po Lin Monastery is its lively and inclusive religious ceremonies. Visitors are warmly encouraged to participate in these rituals, whether it be the chanting of sutras, lighting of incense, or making offerings. These experiences provide a unique opportunity to connect with the deeply rooted Buddhist traditions and gain a deeper understanding of the spiritual essence of the monastery.
Po Lin Monastery is more than just a place of worship; it's a spiritual haven where visitors can explore a fusion of history, art, and culture, all while finding solace in its serene surroundings. A visit to this sacred sanctuary offers a profound and enriching experience for those seeking to immerse themselves in the spiritual essence of Hong Kong's vibrant heritage.
Ngong Ping 360 Cable Car
To reach the Tian Tan Buddha, most visitors opt for the Ngong Ping 360 Cable Car. This picturesque journey treats you to breathtaking views of the lush landscapes of Lantau Island and the South China Sea. The cable car ride, with its breathtaking vistas, is an attraction in itself, making it a vital part of your overall experience.
Considerations for a Memorable Visit
A trip to the Tian Tan Buddha entails unique considerations that you should keep in mind.
Dress Code
Given the religious significance of the Tian Tan Buddha and Po Lin Monastery, it's essential to dress respectfully. Ensure your attire covers your shoulders and knees. Sleeveless clothing, short skirts, or shorts are not suitable for this visit. Consider carrying a shawl or sarong to cover up if your outfit doesn't meet the dress code.
Operating Hours
Both the Tian Tan Buddha and Po Lin Monastery have specific opening hours. Typically, they are open from early morning until late afternoon. It's advisable to verify the official website or inquire locally for the most up-to-date opening hours, as they may vary depending on the season.
Admission Fees
While visiting the outdoor areas of the Tian Tan Buddha is free, there may be charges for specific experiences, such as exploring the Buddha's interior or participating in guided tours. It's prudent to budget accordingly and verify the latest prices before your visit.
Respectful Conduct
Demonstrating respect for the cultural and religious significance of the site is of paramount importance. Avoid loud conversations, disruptive behavior, or any disrespectful actions. When entering temples, adhere to the practice of removing your shoes and speaking softly.
Photography
Photography at the Tian Tan Buddha and Po Lin Monastery is typically permitted, but always be respectful. Seek permission before photographing individuals and be aware of your surroundings, particularly during religious ceremonies.
Sharing Personal Experiences
To gain a deeper appreciation of the Tian Tan Buddha and its surroundings, let me recount my personal experiences from a recent visit.
Arrival at Ngong Ping
My journey commenced with a breathtaking ride on the Ngong Ping 360 Cable Car, providing panoramic views of the verdant mountains and the serene South China Sea. Anticipation grew as we approached Ngong Ping Village, a charming marketplace filled with shops, eateries, and cultural attractions.
Exploring Po Lin Monastery
The Po Lin Monastery, a short walk from the cable car station, was my initial stop. The striking golden roofs of the temple halls glittered in the sunlight. I spent time wandering through the serene gardens, lighting incense sticks, and observing the monks in their daily rituals. The monastery's tranquility offered a striking contrast to the bustling city of Hong Kong, providing a unique spiritual experience.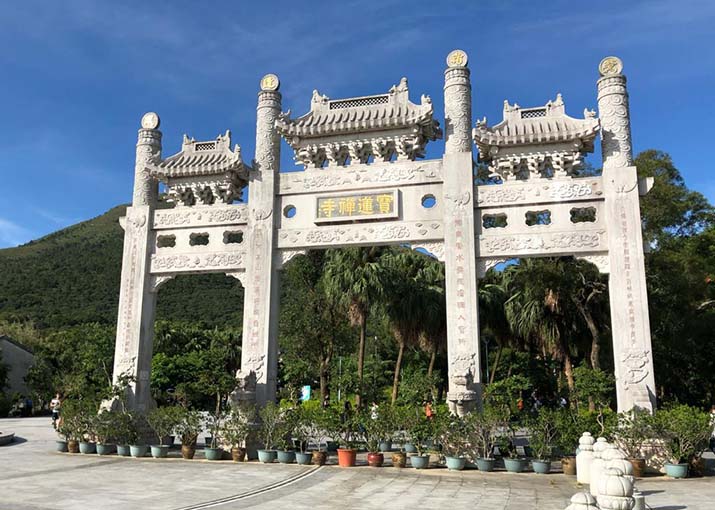 The Big Buddha
The Tian Tan Buddha, perched at the summit of a steep flight of steps, is surrounded by six smaller bronze statues known as "The Offering of the Six Devas." Ascending to the Buddha is a rewarding endeavor, offering not only the majestic sight of the statue but also breathtaking panoramic views of Lantau Island and the South China Sea from the statue's base.
Inside the Buddha
For a more immersive experience, I chose to explore the interior of the Tian Tan Buddha. Inside, a small museum offers insights into the statue's history and construction. Climbing a narrow stairwell, I reached a platform within the Buddha, where I could gaze out through the statue's chest, symbolizing the heart of the Buddha's wisdom. It was a unique vantage point that left a lasting impression.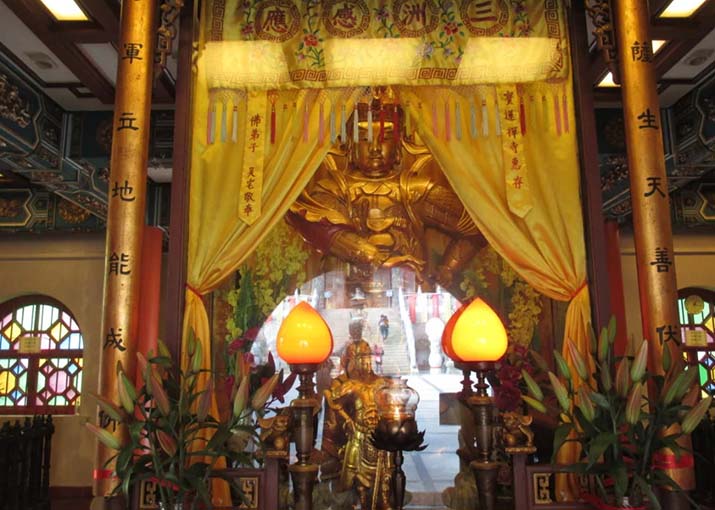 Lunch at Ngong Ping Village
Following my visit to the Tian Tan Buddha, I relished a delectable vegetarian meal at one of the restaurants in Ngong Ping Village. Po Lin Monastery is renowned for its delicious vegetarian cuisine, and I savored dishes like tofu and vegetable stir-fry, steamed buns, and fragrant rice.
Tips for a Seamless Visit
To ensure your trip to the Tian Tan Buddha is enjoyable and hassle-free, consider the following tips:
Early Arrival
Arrive early in the day to avoid crowds, particularly if you plan to take the cable car. This will also grant you ample time to explore at a leisurely pace.
Guided Tours
Contemplate joining a guided tour to gain in-depth knowledge about the site's history and significance. Many tours include transportation to and from the city.
Weather Considerations
Check the weather forecast before your journey, as Lantau Island can experience abrupt weather changes. Be prepared with an umbrella, sunscreen, and suitable clothing.
Souvenir Shopping
Don't forget to explore the shops at Ngong Ping Village. You can discover a range of souvenirs, including traditional Chinese tea, Buddhist artifacts, and local crafts.
Take Your Time
Plan to dedicate several hours to exploring the area. Rushing through the experience might rob you of the chance to fully appreciate the spiritual and natural beauty of the site.
Practical Travel Advice
For a smooth and enjoyable day at the Tian Tan Buddha, here are some practical travel tips:
Getting There
The most common way to reach the Tian Tan Buddha is by taking the MTR (subway) to Tung Chung Station. From there, you can board the Ngong Ping 360 Cable Car. Alternatively, you can opt for a bus or taxi ride to Ngong Ping.
Transportation Card
Consider obtaining an Octopus Card, a rechargeable smart card that can be used for various forms of public transportation, including the MTR, buses, and the cable car. It makes travel more convenient and often offers cost savings.
Language
While Cantonese is the primary language in Hong Kong, many locals and service staff are proficient in English. It's beneficial to
be familiar with some basic Cantonese phrases or have a translation app at your disposal, even though most signs are bilingual.
Currency
The currency used in Hong Kong is the Hong Kong Dollar (HKD). It's advisable to carry some cash, as certain smaller shops and vendors may not accept credit cards.
Connectivity
If you require internet access during your visit, think about acquiring a local SIM card or a portable Wi-Fi device, which you can purchase at the airport or in the city.
Tian Tan Buddha, situated on Lantau Island in Hong Kong, is a breathtaking bronze statue. I had the privilege of visiting it and was deeply impressed by the experience. Standing in front of this colossal statue, you not only witness its grandeur but also bask in a serene atmosphere. This place truly symbolizes the tranquility, spirituality, and cultural heritage of Hong Kong.
At the base of the Tian Tan Buddha, there is a vast outdoor hall where visitors can rest and contemplate. I spent some quiet time there, experiencing a profound sense of inner peace. The murals and carvings on the walls of the hall are exquisitely done, providing a deeper understanding of the richness of Buddhist culture.
To make your visit more enjoyable, I have a few recommendations. First, plan your trip in advance, including transportation arrangements, as Lantau Island is relatively far and requires a ferry or cable car ride to reach. Second, wear appropriate shoes and clothing as you will need to walk up to the statue. Also, remember to bring an adequate supply of water and some snacks for your journey. Finally, maintain respect and quietness during your visit to honor this religious site and ensure a peaceful experience for other visitors.The Tian Tan Buddha is an unforgettable Hong Kong attraction, not only for its grandeur but also for the cultural and spiritual significance it represents. Whether you seek solace for your soul or have a strong interest in Hong Kong's cultural heritage, a visit to this extraordinary place is well worth it. I hope you too can create beautiful memories there.
Visiting the Tian Tan Buddha is an unforgettable experience that offers a blend of natural beauty, cultural enrichment, and spiritual reflection. From the serene Po Lin Monastery to the grandeur of the Big Buddha, the journey to Lantau Island is a must for anyone exploring Hong Kong.
Remember to be respectful of the cultural and religious significance of the site, dress appropriately, and take your time to soak in the unique atmosphere. Whether you're a seasoned traveler or a first-time visitor to Hong Kong, a day at the Tian Tan Buddha is sure to leave you with lasting memories and a profound sense of wonder.