Hong Kong, the vibrant fusion of Eastern and Western cultures, is not only a bustling urban hub with towering skyscrapers but also a place where the magic of nature meets the thrill of adventure at Hong Kong Ocean Park. In this extensive travel guide, we will embark on a detailed one-day journey through this iconic destination, uncovering its myriad facets, attractions, and experiences.
History and Background
Before we delve into the heart of Ocean Park, let's first explore its rich history and background. Established in 1977, this sprawling marine-themed amusement park is nestled on the southern coast of Hong Kong Island. Over the years, it has transformed into one of Asia's premier marine conservation centers and a top-rated tourist attraction, renowned for its dedication to wildlife preservation and education. The park's unique location, cradled by lush hillsides and captivating ocean vistas, sets it apart from other theme parks worldwide.
Summit Area:
Thrill Mountain: A haven for thrill-seekers, Thrill Mountain delivers adrenaline-pumping experiences. From the exhilarating "Hair Raiser" to the adventurous "Rapid River," this area offers something for everyone. Family-friendly rides and attractions ensure a fun-filled day for visitors of all ages.
Polar Adventure: Step into the polar regions at Polar Adventure, where you can encounter remarkable polar animals such as penguins and polar bears. Explore "Arctic Fox Den" and "North Pole Encounter" to gain a deeper understanding of the Arctic's unique ecosystems.
SkyFair: SkyFair provides an ideal setting for leisurely strolls and scenic vistas. Enjoy a cable car ride over the mountaintop, offering breathtaking views of the ocean and the park below. Stop by the cafés and snack stalls to savor delicious treats while taking in the panoramic beauty.
Cloudy Hill (Summit): This family-friendly area is perfect for those traveling with children. Attractions like "The Frog Prince Theatre" and "The Insect Encounter" offer interactive and educational experiences suitable for the whole family.
Haunted Mine: For those seeking spine-tingling thrills, the Haunted Mine promises a hair-raising adventure. Dive into a world of eerie effects and scenes that will keep you on the edge of your seat.
Getting There
To begin your Ocean Park adventure, you need to know how to reach this wondrous destination. Most visitors to Hong Kong will find it convenient to travel to the park from the city center. Transport options include taking a taxi, hopping on a public bus, or embarking on the iconic Ocean Park cable car, which offers awe-inspiring views as you descend to the park entrance. Each mode of transportation has its own charm, and we will explore the best way to get there based on your preferences.
Tickets and Admission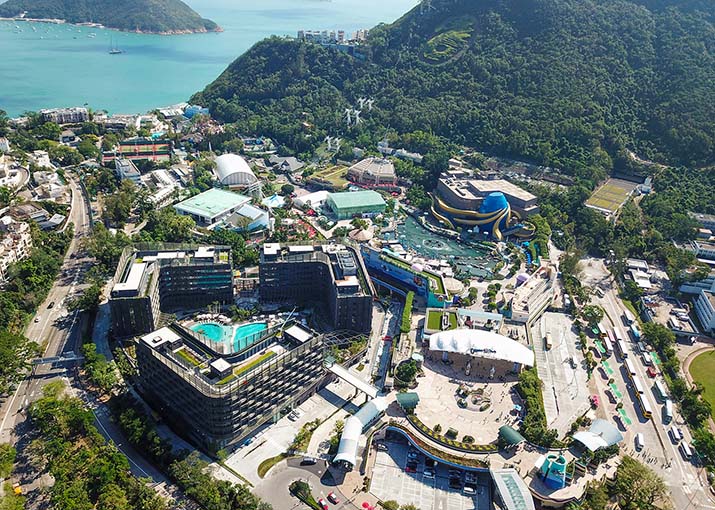 Before setting foot in the park, meticulous planning is essential, including purchasing your tickets. We will guide you through the different ticket options, including general admission, child and senior tickets, and annual passes, helping you comprehend the pricing structure. Additionally, we will provide tips on when to visit to avoid crowds and potentially secure discounts on your tickets.
Exploring the Themed Areas
Hong Kong Ocean Park is divided into two main areas: the Waterfront and the Summit. Each area boasts its own unique attractions and experiences. We will take an in-depth look at both areas, highlighting the key attractions and experiences you shouldn't miss, from the mesmerizing Grand Aquarium to the pulse-pounding roller coasters, as well as the captivating animal exhibits that will leave you in sheer amazement.
Waterfront Area:
Grand Aquarium: A true gem of the park, the Grand Aquarium is a dazzling showcase of underwater wonders. Here, visitors can marvel at an array of marine life, from majestic sharks to graceful sea turtles. A highlight is the 360-degree underwater tunnel that immerses you in the vibrant world beneath the waves.
Ocean Theatre: This is where the magic happens daily, with captivating performances featuring sea lions, dolphins, and marine birds. The audience gets a chance to interact with these intelligent creatures while learning about marine conservation and ecosystems.
Aqua City: Blending modern technology with natural beauty, Aqua City offers an educational and immersive experience. Explore exhibits like "Pearl of the Abyss" and "Adventures in Australia" to gain insight into marine ecosystems. Don't miss the breathtaking "Symbio!" fountain show, where light and music come together in a dazzling spectacle.
Animal Encounters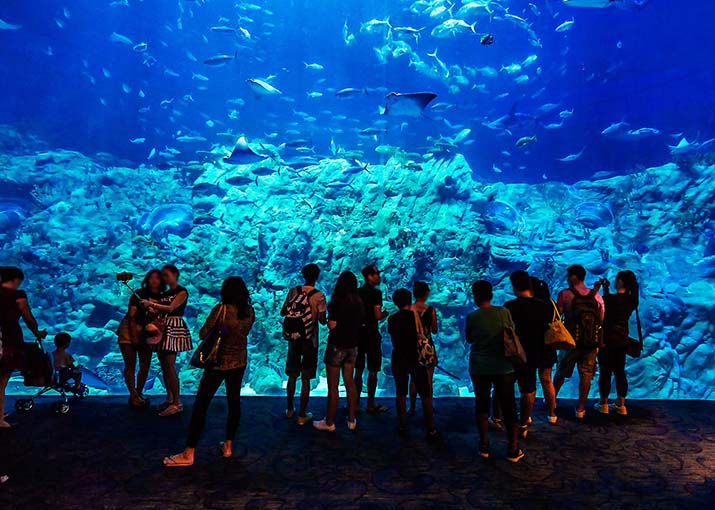 One of the park's standout features is its commitment to marine conservation and animal welfare. Immerse yourself in the world of aquatic life with visits to the Dolphin Encounter, Shark Mystique, and the Polar Adventure. Learn about the comprehensive conservation efforts in place to protect these extraordinary creatures and gain a deeper understanding of the fragile marine ecosystems they inhabit.
Thrill Rides and Entertainment
For thrill-seekers, Ocean Park offers an array of heart-pounding rides and awe-inspiring attractions. From the adrenaline rush of the Hair Raiser roller coaster to the enchanting Symbio show, complete with nightly fireworks, we will guide you through the park's entertainment options and assist you in making the most of your visit.
Dining and Refreshments
Exploring Ocean Park is sure to work up an appetite, and we've got you covered. Discover the diverse culinary options available, from international cuisine to local favorites. We will also suggest the best places to take a break, enjoy a snack, or have a full meal while savoring the scenic views that the park offers.
Shopping and Souvenirs
No trip to a theme park is complete without a bit of souvenir shopping. We will explore the various shops and stalls within Ocean Park, where you can find unique keepsakes and gifts to commemorate your visit. Whether you're a fan of marine-themed merchandise or looking for traditional Chinese souvenirs, there's something for everyone.
Sustainability and Conservation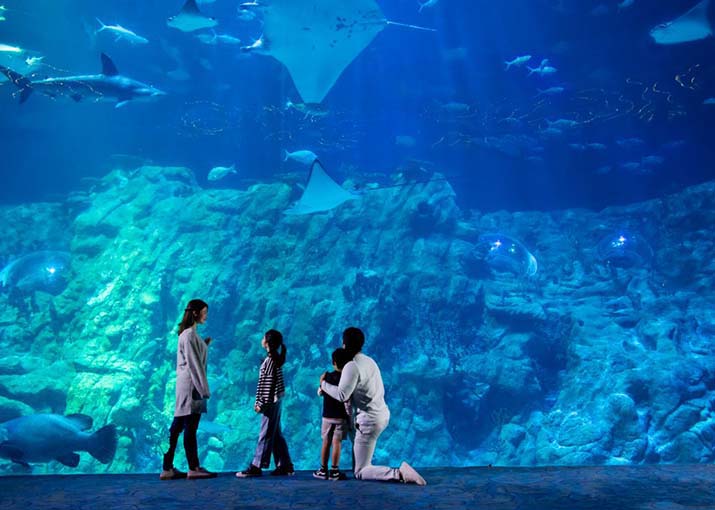 Ocean Park is not merely a place for entertainment; it's a hub for education and conservation. Discover the park's efforts to raise awareness of environmental issues and its unwavering commitment to sustainability. Learn how your visit contributes to these noble causes and how you can actively participate in conservation efforts.
Visitors have the flexibility to tailor their exploration based on their interests and time constraints. You can choose to delve into specific areas or create a customized itinerary that spans different sections, ensuring that you make the most of your day and create lasting memories. Utilize the park map and familiarize yourself with attraction operating hours to maximize your visit. Whether you're an adventure enthusiast or an admirer of natural beauty, Hong Kong Ocean Park offers a diverse range of experiences for all visitors.
Hong Kong Ocean Park: A Comprehensive Journey
Hong Kong Ocean Park is a breathtaking place that combines the excitement of a theme park with a mission of marine conservation and education. Before concluding your one-day adventure, let us provide some valuable tips to ensure you make the most of this world-class tourist destination.
1. Early Arrival for Early Enjoyment
The morning is the best time to explore Hong Kong Ocean Park. Arriving early to avoid the crowds, especially on weekends and holidays, allows you to better appreciate animal performances, thrilling rides, and other unique experiences. It's also when animals are most active.
2. Know the Show Schedule
Before you arrive at the park, check the schedule for animal performances and shows. This will help you plan your day to ensure you don't miss the entertaining sea lion, dolphin, and other adorable animal performances. These shows not only offer entertainment but also educate visitors about the importance of marine life.
3. Understand the History of Hong Kong Ocean Park
While exploring the park, you can admire its spectacular attractions and facilities while learning about the history of Hong Kong Ocean Park. This place carries many years of tradition and culture, including its iconic maritime theme and mission related to marine conservation. A deeper understanding of these aspects will enhance your appreciation of the park.
4. Stay Hydrated
In the climate of Hong Kong, the weather can get quite hot during the summer. Make sure to carry an adequate supply of water to stay hydrated. There are water stations within the park, but waiting times can sometimes be long. Maintaining proper hydration is essential for your journey.
5. Discover Hidden Gems in the Park
Beyond the main attractions, Hong Kong Ocean Park hides many lesser-known treasures. Explore some of the less-visited areas, and you might stumble upon unexpected surprises. In particular, the corners of the aquarium can reveal exquisite underwater creatures, often in a more peaceful setting that allows for better appreciation of these fascinating marine species.
6. Embrace Every Moment
Most importantly, don't rush through your visit to Hong Kong Ocean Park. Instead, savor every moment. Whether you're watching animals, participating in interactive activities, or just sitting by the seaside enjoying the beautiful scenery, immerse yourself fully in this wondrous world. Spend quality time with family and friends, creating unforgettable memories.
Hong Kong Ocean Park is an enchanting place filled with fun, education, and adventure. By following these tips, you will be able to have a fulfilling and unforgettable day while supporting the park's mission of marine conservation.
Tips for a Memorable Visit
Before we conclude this comprehensive journey through Hong Kong Ocean Park, we will provide a wealth of tips and recommendations to help you make the most of your day. From arriving early to beat the crowds to staying hydrated, enjoying the park's lesser-known gems, and embracing every moment, these insights will ensure a truly unforgettable and enjoyable experience.
Hong Kong Ocean Park is a world-class destination that seamlessly combines the excitement of a theme park with the wonder of marine conservation and education. As we wrap up our one-day adventure through this remarkable place, you will have gained a comprehensive understanding of its history, attractions, and the invaluable work it does to protect the natural world.