Welcome to the captivating city of Seattle, where breathtaking natural landscapes coexist harmoniously with technological innovation and a rich, diverse culture. Seattle is located in the Pacific Northwest region of the United States and offers numerous enchanting attractions waiting for you to explore. We embark on a 2-day journey, delving into the heart of the city and exploring its most iconic landmarks, including the Seattle Aquarium, the Pacific Science Center, Pike Place Market, the Seattle Art Museum, and the globally renowned Space Needle. Throughout this trip, we will delve into the intricate details of each attraction, providing profound insights, practical tips, and recommendations to enhance your Seattle experience.
Day 1: Discovering Seattle's Waterfront
Morning: Seattle Aquarium
Address: 1483 Alaskan Way, Pier 59, Seattle, WA 98101
Opening Hours: 9:30 AM – 5:00 PM
Commence your Seattle adventure at the captivating Seattle Aquarium, located along the picturesque waterfront. The aquarium is a window into the mesmerizing marine world of the Pacific Northwest and beyond. Featuring immersive exhibits, this aquatic wonderland showcases a diverse array of sea creatures. Be sure to catch the enchanting jellyfish exhibit and the daily harbor seal and sea otter feedings for a truly engaging experience.
The Seattle Aquarium is an enchanting underwater realm that brings together an array of mesmerizing marine life from the Pacific Northwest and beyond. It's like stepping into an aquatic wonderland where I had the privilege of witnessing the colorful lives of oceanic creatures.
The mesmerizing jellyfish exhibit at the aquarium captured my imagination. These translucent creatures seemed to dance in the gentle glow of the exhibit's lighting. Each visit felt like a unique visual feast. Additionally, the daily feeding sessions for harbor seals and sea otters were both informative and entertaining. Watching these animals frolic and interact left me with a deep sense of admiration.
The aquarium offers numerous educational, interactive displays that deepen your understanding of the fragility of marine ecosystems and the need for their protection. This visit was not only exciting but also served as a poignant reminder of the importance of preserving our natural world.
Insider Tip: Arrive early in the morning to savor the tranquility and avoid the crowds. Allocate approximately 2-3 hours for your visit to fully appreciate the exhibits.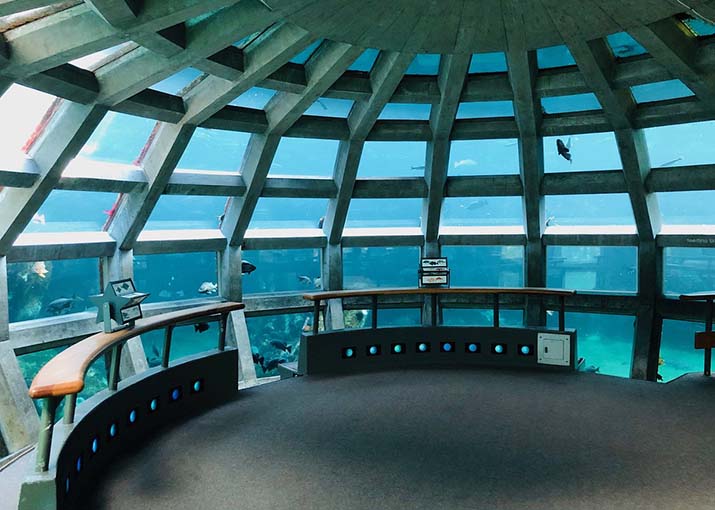 Lunch: Waterfront Dining
Following your aquarium exploration, indulge in a leisurely seafood lunch at one of the waterfront's delightful restaurants. These establishments offer not only sumptuous seafood dishes but also panoramic views of Puget Sound, creating an unforgettable dining experience.
Afternoon: Pacific Science Center
Address: 200 2nd Ave N, Seattle, WA 98109
Opening Hours: 10:00 AM – 5:00 PM
Embark on a short stroll to the nearby Pacific Science Center, an interactive science museum that caters to visitors of all ages. The center presents a multitude of hands-on exhibits and engaging activities that make science come alive. Highlights include the Tropical Butterfly House, mesmerizing Laser Dome shows, and an awe-inspiring planetarium. Immerse yourself in the wonders of science and technology while having a fantastic time.
The Pacific Science Center is a place that sparks curiosity and a passion for scientific exploration. The interactive exhibits and a wide range of experiments made me feel like a kid again.The Tropical Butterfly House was a memorable highlight. Surrounded by vividly colored butterflies, it felt like I had been transported to a tropical rainforest. The nighttime Laser Dome shows were nothing short of spectacular, immersing me in a world of dazzling lights and patterns.
The Pacific Science Center is not just entertaining; it's also educational. It encourages people to delve into the mysteries of natural science, astronomy, and ecology. It's a perfect place for families to spend quality time together, all while learning something new.
Insider Tip: Consult the show schedule for the planetarium and Laser Dome in advance to ensure you don't miss out. Plan for around 3-4 hours to fully explore the center's offerings.
Evening: Dinner at Pier 66
Conclude your first day with a memorable dinner at one of the restaurants on Pier 66, such as Anthony's or Elliott's Oyster House. These culinary establishments not only serve delectable seafood but also offer breathtaking views of the Seattle skyline as the sun sets over the city.
Day 2: Immersing in Seattle's Culture and Landmarks
Morning: Pike Place Market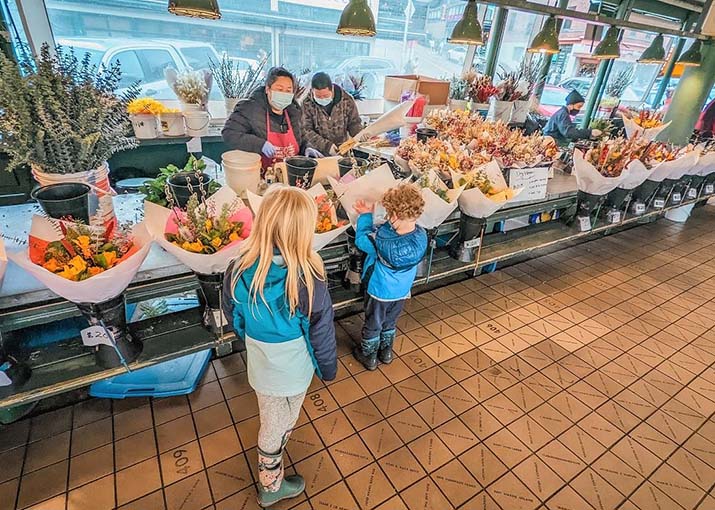 Address: 85 Pike St, Seattle, WA 98101
Opening Hours: Varies by shop, typically 9:00 AM – 6:00 PM
Commence your second day at the historic Pike Place Market, one of the nation's oldest continually operated public farmers' markets. Meander through the market's labyrinthine alleys adorned with vibrant stalls selling fresh produce, artisanal crafts, and unique wares. Be sure not to miss the iconic Pike Place Fish Market, where the lively fishmongers entertain the crowd by tossing giant fish.
Pike Place Market is a historic market that stands as one of Seattle's most iconic landmarks. I was immersed in a rich cultural atmosphere and a world of authentic cuisine.
The narrow alleyways of the market were lined with stalls displaying a kaleidoscope of fresh produce, handcrafted goods, and unique items. Of course, the famous Pike Place Fish Market was impossible to overlook. The skilled fishmongers tossing giant fish in a playful manner was a sight that drew the attention of countless tourists.
I had the opportunity to sample Seattle's signature coffee at one of the market's cafes, fully immersing myself in the vibrant market atmosphere. This place is a fantastic choice for culture, gastronomy, and shopping.
Insider Tip: Begin your visit early to relish the market's hustle and bustle while avoiding the midday crowds. Enjoy breakfast at one of the charming cafes or bakeries within the market.
Late Morning: Seattle Art Museum
Address: 1300 1st Ave, Seattle, WA 98101
Opening Hours: 10:00 AM – 5:00 PM (closed on Tuesdays)
A short walk from Pike Place Market, you'll discover the Seattle Art Museum (SAM). SAM houses an extensive collection of art, including contemporary, Native American, Asian, and European masterpieces. The museum's architecture itself is a work of art, seamlessly blending modern and historic elements. Take your time to explore the diverse and impressive exhibits that the museum has to offer.
The Seattle Art Museum houses an extensive collection of artistic treasures, ranging from contemporary and Native American art to Asian and European masterpieces. The museum's architectural design alone is a masterpiece that beautifully melds modern and historical elements.
I spent a significant amount of time exploring the art from different cultures and eras. The Native American art left a profound impression on me, as did the innovative world of contemporary art. The museum's rotating exhibitions consistently offer something new to discover.This place is a haven for culture enthusiasts and art aficionados, providing food for thought and a wellspring of inspiration.
Insider Tip: Allocate 2-3 hours for your visit to SAM, and check for any special exhibitions or events taking place during your visit.
Lunch: Culinary Exploration
Seattle's dining scene offers a diverse array of options, so choose a restaurant that suits your taste buds and enjoy a relaxing lunch.
Afternoon: Space Needle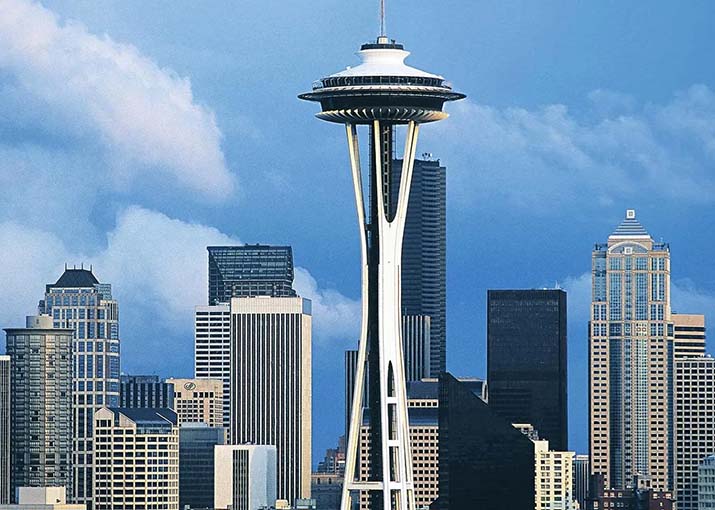 Address: 400 Broad St, Seattle, WA 98109
Opening Hours: 10:00 AM – 6:00 PM (varies by season)
No trip to Seattle is complete without ascending the iconic Space Needle. The 360-degree observation deck affords awe-inspiring views of the city, Puget Sound, and the surrounding mountains. The Space Needle is Seattle's iconic landmark, a true symbol of the city. Standing atop its observation deck, I was in awe of the breathtaking views it offered.
From the observation deck, I had an encompassing view of the city, the waterfront, and the distant mountains. The Space Needle's structural design and architecture were deeply impressive, and experiencing the entire city from such a height was a unique and unforgettable experience.
The Space Needle also boasts a revolving restaurant, where I relished a delectable dinner while surrounded by the mesmerizing views of the city at night. It was a culinary journey I'll never forget.
Insider Tip: Purchase tickets in advance to bypass lines. Visit the Space Needle in the late afternoon to witness the dynamic colors of the sunset and the city lights at night.
Evening: Explore Seattle's Diverse Neighborhoods
Following your visit to the Space Needle, take the opportunity to explore some of Seattle's vibrant neighborhoods. Depending on your interests, consider visiting neighborhoods such as Capitol Hill, Fremont, or Ballard, each offering a distinct character, a plethora of restaurants, and exciting nightlife.
Things to Keep in Mind
Weather
Seattle's weather can be unpredictable, so it's advisable to dress in layers and carry an umbrella or raincoat, especially during the fall and winter months.
Transportation
Seattle boasts an efficient public transportation system, including buses and the Link light rail. Procure an ORCA card to easily access all public transportation options.
Personal Experience
During my own visit to Seattle, I was captivated by the city's unique blend of natural beauty and urban vibrancy. The aquarium provided a captivating glimpse into the marine life of the Pacific Northwest, while Pike Place Market was a sensory delight with its bustling energy and fresh produce. The Space Needle, standing tall amidst the city, offered a perspective that made me truly appreciate the stunning landscapes surrounding Seattle.
Alternative Destinations
If you have additional time to spare in Seattle, consider visiting these extra attractions:
Chihuly Garden and Glass: Located near the Space Needle, this museum showcases the stunning glasswork of artist Dale Chihuly.
Woodland Park Zoo: Perfect for wildlife enthusiasts, this zoo houses a diverse range of animals from across the globe.
Museum of Pop Culture (MoPOP): A celebration of contemporary popular culture and music, MoPOP features interactive exhibits and iconic memorabilia.
Itinerary Summary
Day 1: Discovering Seattle's Waterfront
Morning: Seattle Aquarium
Lunch: Waterfront Dining
Afternoon: Pacific Science Center
Evening: Dinner at Pier 66
Day 2: Immersing in Seattle's Culture and Landmarks
Morning: Pike Place Market
Late Morning: Seattle Art Museum
Lunch: Culinary Exploration
Afternoon: Space Needle
Evening: Explore Seattle's Diverse Neighborhoods
Practical Tips for a Two-Day Trip
Plan your itinerary in advance and purchase tickets online to save time.
Comfortable walking shoes are essential, as Seattle is best explored on foot.
Consider making restaurant reservations if you have specific dining preferences.
Check for any special events or exhibitions taking place during your visit.
Don't forget to indulge in Seattle's famous coffee and savor the local coffee culture.
Seattle is a city with something for everyone, whether you're a nature enthusiast, history buff, art aficionado, or a food connoisseur. With this two-day itinerary, you'll have a comprehensive experience of the city's top attractions and a chance to immerse yourself in its vibrant culture. Enjoy your journey in the Emerald City!