Welcome to the city that never sleeps, the iconic New York City. This bustling metropolis is a melting pot of cultures, offering a diverse array of experiences that cater to every interest. Whether you're visiting this beloved city for the first time or returning for another visit, I'm here to share my two-day adventure, filled with unforgettable moments.
As you embark on your journey, I'll provide in-depth insights into each attraction, sharing the historical context, personal experiences, and practical tips to help you make the most of your time in the Big Apple. From the lush oasis of Central Park to the poignant 9/11 Memorial, and from the dazzling lights of Times Square to the rich culture within The Met, this guide ensures you won't miss a beat. Let's dive into the heart of New York City.
Day 1: Uptown & Midtown Manhattan
Morning: Central Park – An Urban Paradise
Your adventure begins in the heart of Manhattan, where the sprawling Central Park invites you to start your day in tranquility. Covering 843 acres, Central Park is a masterpiece of urban design, a lush respite within the bustling city. As you wander through this green oasis, take in the serenity of the Bethesda Terrace. This architectural marvel features the Angel of the Waters statue, surrounded by intricate mosaics and carvings. It's a perfect spot to capture the essence of Central Park's beauty.
For those seeking a different experience, the Central Park Zoo is just a stone's throw away. This delightful zoo is a family favorite, home to a wide variety of animals, from penguins to snow leopards.
If you're looking for a unique and serene activity, consider renting a rowboat to paddle across the Central Park Lake. This offers a peaceful perspective of the park's natural beauty.
Tip: To savor the tranquility and avoid the crowds, opt for a morning visit to Central Park. Rowboats can be rented at the Loeb Boathouse from 10 AM to 5:30 PM.
Late Morning: The Met – A Cultural Marvel
A short walk from Central Park, you'll discover The Metropolitan Museum of Art, affectionately known as "The Met." Boasting an extensive collection, The Met is one of the world's largest and most prestigious art museums. Its holdings span cultures, time periods, and artistic mediums, making it a cultural treasure trove. You'll encounter everything from ancient Egyptian artifacts to European masterpieces within these hallowed halls.
Tip: Check The Met's website for any special exhibitions or guided tours that may enhance your visit.
Lunch: Savoring NYC Street Food
After your enriching morning, it's time to savor the flavors of New York City's renowned street food. From classic hot dogs to mouthwatering pretzels, the city's street vendors offer a taste of authentic New York. Relish these iconic treats as you explore the city's vibrant streets.
Afternoon: Fifth Avenue & Top of the Rock
Fifth Avenue, synonymous with high-end shopping, historic landmarks, and stunning architecture, awaits your exploration. As you stroll along this iconic avenue, don't miss St. Patrick's Cathedral. This neo-Gothic masterpiece is a serene refuge, boasting awe-inspiring spires and exquisite stained glass windows. Stepping inside provides a moment of contemplation amidst the city's constant motion.
As the day turns into evening, it's time to ascend to the Top of the Rock Observation Deck. Perched atop the Rockefeller Center, this observation deck offers a 360-degree view of New York City's iconic skyline. You'll be treated to breathtaking vistas, with landmarks like the Empire State Building, Central Park, and the One World Trade Center's Freedom Tower glistening on the horizon. Sunset is an ideal time for this visit, as you'll witness the city's transition from daylight to a luminous night skyline.
Tip: To bypass long lines and secure your preferred time slot, it's highly recommended to book your tickets for the Top of the Rock Observation Deck online in advance.
Day 2: Downtown & Beyond
Morning: Reflecting at the 9/11 Memorial & Museum
Your second day begins with a visit to the 9/11 Memorial & Museum, a place of solemn reflection and remembrance. The memorial features two serene reflecting pools positioned within the footprints of the original Twin Towers. Known as the North Pool and South Pool, these pools are surrounded by bronze panels inscribed with the names of the nearly 3,000 people who lost their lives on September 11, 2001. The design and layout of the memorial create a contemplative atmosphere, providing a space for honoring and remembering.
Beneath the memorial, you'll find the 9/11 Museum, a place of great emotional significance. This museum offers a comprehensive and moving account of the events of 9/11, featuring artifacts, photographs, personal stories, and multimedia exhibits. It's a somber but essential experience to gain a deeper understanding of the events and their global impact.
Tip: Due to the popularity of the 9/11 Memorial & Museum, it's wise to book your tickets online in advance to secure your preferred entry time.
Lunch: Savor the Flavors of NYC Pizza
New York City is renowned for its pizza, and no visit would be complete without savoring a slice or two from a local pizzeria. The city offers a wide range of pizza styles, from the classic New York slice to artisanal and Neapolitan options. Whether you prefer a plain cheese slice or a gourmet topping, indulging in a slice of pizza is a culinary rite of passage in the city.
Afternoon: Lower Manhattan & Statue of Liberty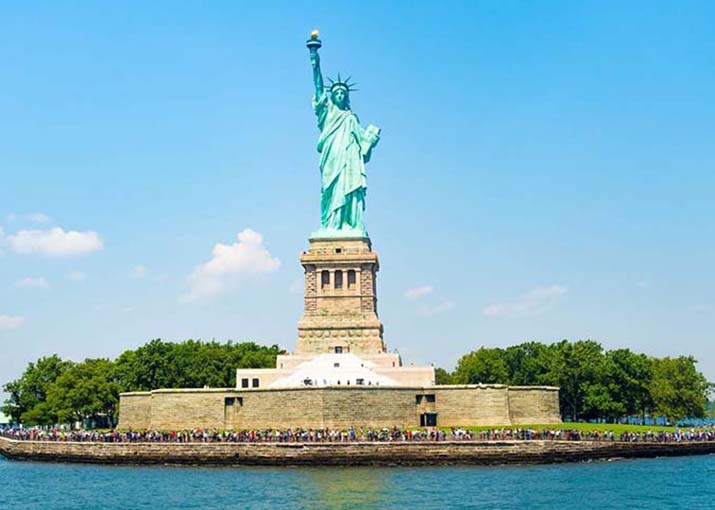 Lower Manhattan is home to many iconic landmarks, including Wall Street and the Charging Bull sculpture. Wall Street is synonymous with finance, and while you can't enter the New York Stock Exchange, you can view the historic building from outside.
The Charging Bull, a bronze sculpture located nearby, represents financial optimism and prosperity. This iconic sculpture is a popular photo spot and a symbol of Wall Street.
For a maritime adventure, consider taking a ferry to visit the Statue of Liberty and Ellis Island. The Statue of Liberty, a gift from France to the United States, is an enduring symbol of freedom and democracy. You can explore the pedestal and the museum on Liberty Island, and even climb to the crown for a breathtaking view of the harbor and city. Ellis Island, just a short ferry ride away, is home to the Ellis Island National Museum of Immigration. Here, you can learn about the millions of immigrants who passed through this historic gateway to America and gain insight into the immigrant experience.
Evening: The Glitz of Times Square
Conclude your New York City adventure with a visit to the dazzling lights of Times Square. Known as "The Crossroads of the World," Times Square is famous for its electronic billboards, Broadway theaters, and the energetic ambiance that defines the heart of the city. Times Square comes alive with its bustling crowds, street performers, and a continuous display of lights and advertising. The vibrant atmosphere makes it an unforgettable experience, especially after dark. You can choose to catch a Broadway show at one of the nearby theaters or simply soak in the electrifying ambiance of this iconic hub.
Attraction Tips:
Central Park: Mornings are the best for a serene experience. Consider renting a rowboat for a unique perspective.
The Met: Check the museum's website for special exhibitions and guided tours.
Top of the Rock: Sunset offers the most spectacular views. Remember to book your tickets online to secure your preferred time slot.
9/11 Memorial & Museum: To avoid long lines, it's highly recommended to book your tickets online in advance.
Statue of Liberty & Ellis Island: Visiting early in the morning or late in the afternoon can help avoid crowds, and you should pre-book your ferry tickets.
Times Square: The vibrant atmosphere is best experienced at night. Explore the various theaters and activities in the vicinity.
Recommended Hotel: The Langham
For a luxurious and comfortable stay with a prime location near Times Square, consider booking a room at The Langham. This 5-star hotel is renowned for its exceptional comfort and service, ensuring a memorable and relaxing stay.
Museum and Attraction Recommendations
American Museum of Natural History: Situated on the Upper West Side, this museum is renowned for its fascinating exhibits on anthropology, paleontology, and natural history.
The Guggenheim Museum: Designed by architect Frank Lloyd Wright, this iconic museum on the Upper East Side features an impressive collection of modern and contemporary art.
One World Observatory: Located atop the One World Trade Center, this observatory offers sweeping views of the city and a moving perspective on the site's history.
Travel Tips
Utilize the New York City subway system for efficient and cost-effective transportation around the city.
Obtain a MetroCard to make accessing public transit easier and more convenient.
Dress comfortably and wear sturdy walking shoes, as exploring the city often involves a fair amount of walking.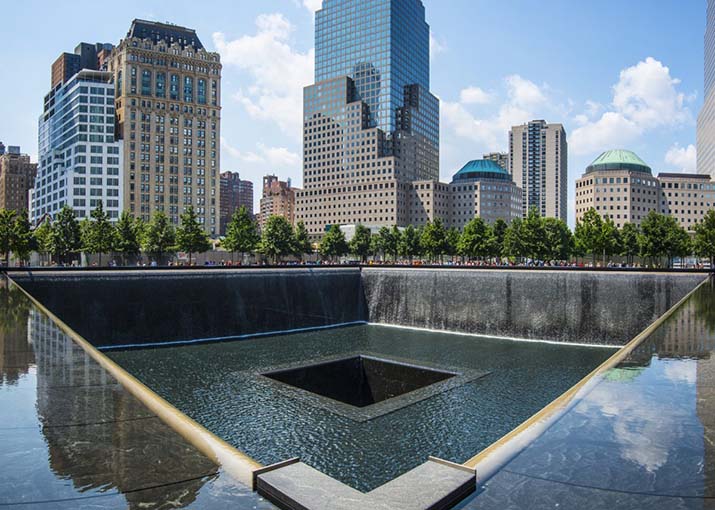 With this extended two-day itinerary, you can immerse yourself in the cultural richness, historical significance, and vibrant energy of New York City. Planning ahead and booking tickets online when possible will help you make the most of your time in the city. New York City's diverse neighborhoods, iconic landmarks, and rich history make it a destination like no other.
Whether you're a first-time visitor or returning to this iconic metropolis, embracing the city's energy, diversity, and cultural richness will make your two-day journey truly unforgettable.
Two-Day Trip Pro Tips
Weather Awareness: Check the weather forecast before your trip and dress accordingly. New York City experiences all four seasons, so pack layers, comfortable shoes, and essentials like an umbrella.
Transportation: Utilize the New York City subway system, which is cost-effective and efficient. A MetroCard simplifies accessing public transit.
Dining Diversity: New York City is a culinary melting pot. Take advantage of the diverse dining options, from street food to Michelin-starred restaurants.
Ticket Reservations: For popular attractions, theaters, and tours, booking tickets in advance online can save you time and secure your spot.
Safety and Awareness: Be aware of your surroundings and belongings, as with any large city. New York City is generally safe, but it's wise to stay alert.
New York City is a dynamic city that continually evolves, so there's always something new to discover and experience. Embrace the city's energy, diversity, and cultural richness, and let your two-day journey be a memorable one. Safe travels, and enjoy your adventure in the Big Apple!