I've been fortunate to explore many captivating destinations around the world. However, one place stands out as truly unique—the Great Barrier Reef. Located near the coast of Cairns, Australia, this UNESCO World Heritage site is renowned for its stunning underwater world and vibrant marine life. Here, I will share my experiences, take you on a two-day adventure to explore this natural wonder, and provide personal insights and tips to ensure your journey is unforgettable.
My time exploring the Great Barrier Reef has been an unforgettable journey. Its awe-inspiring beauty, teeming marine life, and vibrant coral formations have left an indelible impression on my soul.
This expedition through the Great Barrier Reef has served as a poignant reminder of the pressing need to safeguard and preserve this delicate ecosystem. Every visit, every adventure, reinforces the significance of responsible tourism and environmental conservation.
I sincerely hope that sharing my experience has ignited your curiosity and inspired you to embark on your own voyage, discovering the enchantment of this underwater paradise. Let us remember that this natural wonder is not merely a destination but an integral part of our planet's heritage that merits our reverence and protection.
The Great Barrier Reef is a destination like no other, where the splendors of the natural world take center stage and the tranquility of the ocean touches the depths of your being. I encourage you to plan your own sojourn to this extraordinary locale and witness the marvels of the reef firsthand. It's an encounter that will remain etched in your memory for a lifetime.
Day 1: Exploring Cairns and Preparing for the Great Barrier Reef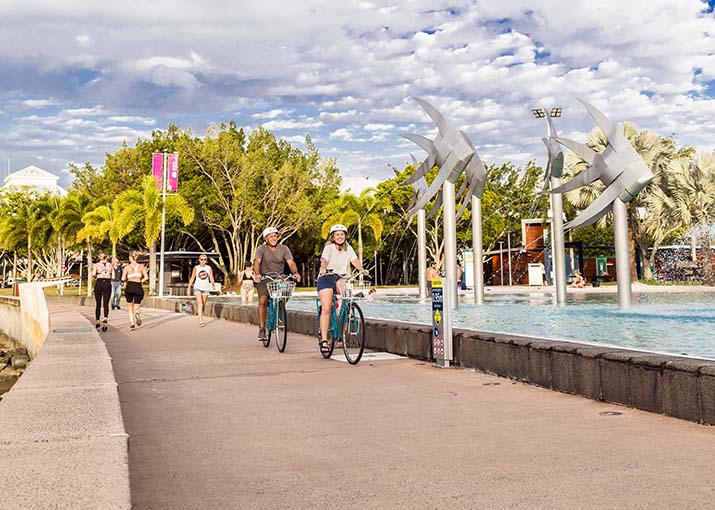 Cairns, often called the gateway to the Great Barrier Reef, is a lively city with a rich history and a multitude of attractions. Your first day should start with exploring the city's renowned landmarks before embarking on your underwater escapade.
Morning: Exploring Cairns Esplanade
Begin your day in Cairns by visiting the renowned Cairns Esplanade. It's best to arrive in the morning, especially on a sunny day to fully appreciate the stunning views of the Great Barrier Reef. The Cairns Esplanade is conveniently located in the city center and offers a scenic coastal experience.
Start your exploration with a leisurely stroll along the Esplanade. This coastal promenade allows you to take in the magnificent sights of the azure sea, beautiful beaches, and lush greenery. It's the perfect place for relaxation and immersion in nature's beauty.
Along your walk, you'll encounter various sculptures and public art installations, enhancing the cultural atmosphere of the Esplanade.
As you wander, you'll also discover charming small shops and cafes, providing an opportunity to pause for a coffee or tea and savor the seaside ambiance.
Breakfast:
You'll find numerous restaurants and cafes in close proximity to the Esplanade where you can enjoy a delightful breakfast. You can opt for a place that serves local specialties or go for a classic breakfast option.
While enjoying your meal, take in the picturesque surroundings of the Esplanade, allowing yourself to soak in the serene atmosphere of Cairns.
Sun Protection Measures:
Due to the intense sunlight in Cairns, it's crucial to apply sunscreen when outdoors. Wearing a wide-brimmed hat is also recommended to shield yourself from the strong UV rays. These sun protection measures are vital, especially as you prepare for underwater adventures at the Great Barrier Reef, ensuring the protection of your skin.
Morning: Cairns Aquarium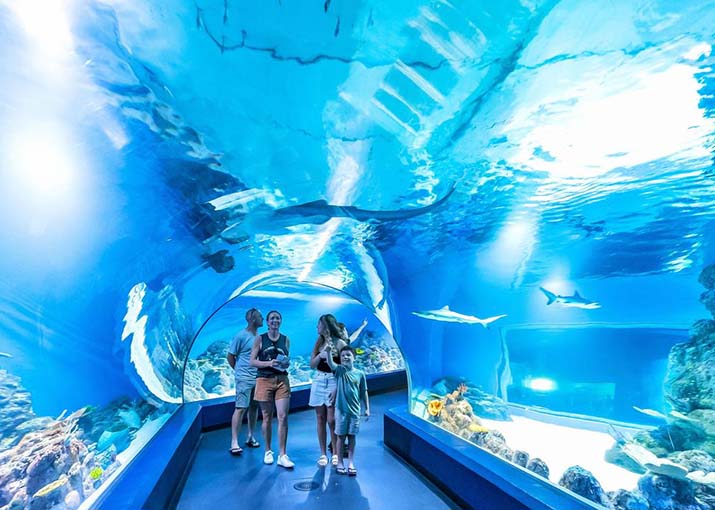 Best Time to Visit: Late morning
The Cairns Aquarium is conveniently located near the Cairns Esplanade, providing a unique opportunity to explore the diverse marine life of the Great Barrier Reef without getting wet. Spending a few hours here allows you to immerse yourself in the spectacular wonders of the coral reef through interactive exhibits.
In-Depth Tips:
Early Arrival: To make the most of your visit and avoid crowds, it's a good idea to arrive at the Cairns Aquarium in the early morning. This allows you to explore the exhibits at your own pace, enjoying a more tranquil experience with the marine life.
Online Ticket Booking: Consider booking your tickets online in advance for convenience. This way, you can skip the ticketing lines and head straight into the enchanting underwater world that awaits you.
Interactive Exhibits: The Cairns Aquarium offers a wide range of interactive exhibits, where you can get hands-on with marine creatures. Don't miss the chance to touch and learn about various species, including colorful fish, seahorses, and intriguing invertebrates.
Guided Tours: For a more informative experience, think about joining a guided tour. Knowledgeable guides can provide you with insights into the marine life, conservation efforts, and the significance of preserving the Great Barrier Reef.
Café and Gift Shop: After your aquarium visit, unwind at the on-site café, where you can savor a meal and browse the gift shop for marine-themed souvenirs.
Exploring the Cairns Aquarium offers a deeper appreciation of the vibrant underwater world of the Great Barrier Reef, making it an enriching part of your Cairns adventure.
This morning plan sets the stage for a relaxed and enjoyable start to your Cairns adventure. You can revel in the natural beauty at Cairns Esplanade and then gear up for your underwater exploration of the Great Barrier Reef. Next, you can plan your Great Barrier Reef adventure, which may include activities such as snorkeling, diving, or coral viewing.
Best Time to Visit: Noon
Following your aquarium visit, savor a seafood lunch at one of the numerous seafood restaurants in Cairns. This is an excellent opportunity to relish the local cuisine.
Departure to the Great Barrier Reef:
Best Time to Visit: Afternoon
In the afternoon, make your way to the Cairns Marina to kick off your Great Barrier Reef adventure. There are various operators offering snorkeling, diving, and boat tours. The journey to the reef typically takes about 1.5 to 2 hours. Tips:
Check the weather forecast and sea conditions before booking your tour; safety should always be a priority.
Snorkeling and Diving in the Great Barrier Reef: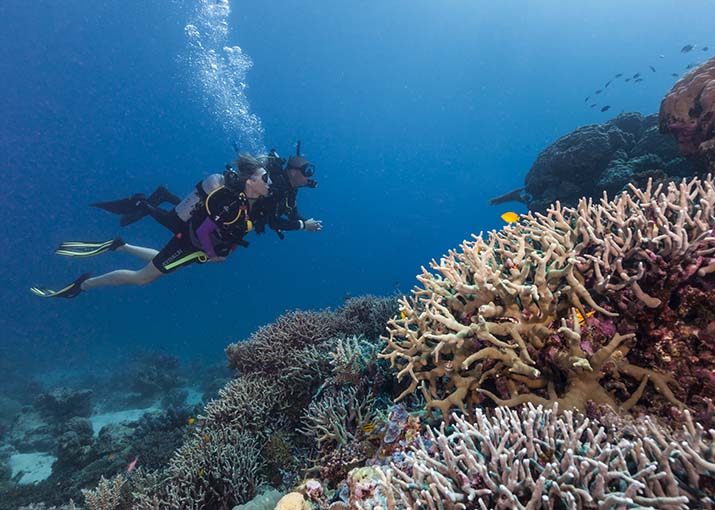 Best Time to Visit: Late Afternoon
Spend your late afternoon discovering the stunning underwater world of the Great Barrier Reef. Whether you are a novice or an experienced diver, there are options to suit everyone. Don't miss the opportunity to swim amidst vibrant coral formations and encounter unique marine life. Tips:
Show respect for the fragile ecosystem by refraining from touching the coral and marine creatures.
Bring an underwater camera to capture your incredible experiences.
Best Time to Visit: Evening
As the day draws to a close, unwind on the deck of your tour boat and witness the sun dip below the horizon. It's a magical experience you won't want to miss. Tips:
Dress warmly, as it can get chilly on the water, especially in the evening.
Day 2: Immersing Yourself in the Great Barrier Reef
Your second day is dedicated to immersing yourself in the wonders of the Great Barrier Reef. Today, you will visit some of the most iconic spots and get up close and personal with the marine life.
Snorkel or Dive at the Agincourt Ribbon Reefs (Outer Reef):
Best Time to Visit: Morning
The Agincourt Ribbon Reefs are renowned for their incredible biodiversity. Spend your morning snorkeling or diving at these reefs, where you can encounter vibrant corals and an array of marine species, including clownfish, sea turtles, and reef sharks. Tips:
Stay well-hydrated and consider wearing a full-body rash guard or wetsuit for sun protection.
Picnic Lunch on the Reef:
Best Time to Visit: Noon
Most reef tour operators provide a delightful picnic lunch on board. Enjoy your meal on the boat or on a floating platform while taking in the stunning views of the reef.
Exploring the Underwater World:
Best Time to Visit: Afternoon
Continue your underwater exploration in the afternoon. Visit underwater canyons, swim-throughs, and coral gardens. Keep your eyes open for the incredible biodiversity, and don't forget to admire the intricate coral formations. Tips:
Be mindful of your air supply while diving and follow the guidance of your instructors.
Glass-Bottom Boat Tour or Semi-Submersible Ride:
Best Time to Visit: Late Afternoon
If you prefer to stay dry, take a glass-bottom boat tour or a semi-submersible ride. These options allow you to observe the marine life from the comfort of a vessel with large viewing windows.
Tips:
Opt for a late afternoon tour to avoid the midday crowds.
Best Time to Visit: Evening
After an exhilarating day on the reef, it's time to head back to Cairns. Enjoy the scenic journey back while reminiscing about your incredible encounters with the underwater world. Tips:
Be prepared for a potentially long journey, and have some entertainment (books, music, etc.) on hand.
Cairns Travel Tips:
Safety First: When snorkeling or diving, always follow the instructions provided by your guides and tour operators. Safety should be your top priority.
Sun Protection: The Australian sun can be intense, so wear sunscreen, a wide-brimmed hat, and UV-protective clothing to avoid sunburn.
Eco-Friendly Practices: Be a responsible traveler and follow sustainable practices. Do not touch the coral, and avoid leaving any trash behind.
Travel Insurance: It's advisable to have travel insurance that covers any unexpected events, especially if you plan to engage in adventurous activities.
Seasonal Considerations: The best time to visit the Great Barrier Reef is during the dry season (April to October) when the weather is pleasant and visibility in the water is excellent.
Three Recommended Museums and Attractions in Cairns:
Tjapukai Aboriginal Cultural Park: Learn about the rich Aboriginal culture and history of the region through engaging performances and interactive exhibits.
Kuranda Scenic Railway and Skyrail Rainforest Cableway: Take a scenic train and cable car ride through the lush rainforest, offering breathtaking views and a chance to explore the village of Kuranda.
Hartley's Crocodile Adventures: Get up close with Australia's iconic reptiles, including crocodiles and kangaroos, in a safe and educational environment.
Planning Your Trip:
To make the most of your two days in Cairns and the Great Barrier Reef, it's essential to plan in advance. Here are some planning tips:
Book your reef tour well ahead of time, as they tend to fill up quickly, especially during peak seasons.
Consider a multi-day pass for multiple reef experiences, which may offer better value.
Research the tour operators and choose one that aligns with your preferences and budget.
Pack essentials such as swimwear, towels, a change of clothes, and any medications or personal items you might need on the reef.
Check if your chosen tour includes meals and refreshments. If not, pack some snacks and water.
Respect the environment by following eco-friendly guidelines provided by your tour operator.
Exploring the Great Barrier Reef is a dream come true for any traveler seeking adventure, natural beauty, and underwater wonders. With two days dedicated to this magnificent destination, you'll have the opportunity to immerse yourself in the vibrant marine life and explore the city of Cairns. Remember to prioritize safety, follow eco-friendly practices, and cherish every moment of your journey to one of the world's most remarkable natural wonders. Enjoy your two days in paradise, and let the Great Barrier Reef's magic leave an indelible mark on your heart. Safe travels!