Oxford is commonly referred to as the "City of Dreaming Spires," a captivating destination with a history spanning several centuries and renowned for its unparalleled academic heritage. Oxford University stands as its most iconic institution, not only one of the world's oldest and most prestigious universities but also a cradle of countless exceptional talents. Today, we embark on a day-long adventure, journeying through the enchanting city of Oxford, delving deep into the heart of Oxford University and its surrounding areas, unveiling hidden treasures and architectural wonders that solidify this city's rich reservoir of knowledge, a timeless center of wisdom passed down through generations.
Morning: A Glimpse into History
9:00 AM – The Radiant Radcliffe Camera
Our Oxford journey commences at the Radcliffe Camera, an iconic circular library nestled within the Bodleian Library. This neoclassical masterpiece, designed by the renowned architect James Gibbs, stands as one of Oxford's most distinguished landmarks. The name "Camera" originates from the Latin word for "room," symbolizing the wealth of knowledge concealed within its walls. While access to the library may be restricted, its exquisite architecture can be marvelled at from the exterior. The Radcliffe Camera is a testament to Oxford University's unwavering pursuit of knowledge, with its history dating back to 1737.
10:00 AM – The Bodleian Library: A Treasury of Wisdom
At this juncture, we delve deep into the Bodleian Library, an architectural masterpiece hailed as the treasury of wisdom. The Bodleian Library stands as one of Oxford University's most prized assets and is among the largest library systems in the United Kingdom. This vast and majestic library houses an incalculable number of precious documents, ancient texts, and historical archives, representing centuries of scholarly achievements.
The history of this library can be traced back to the 17th century, named after Thomas Bodley, the university's librarian whose generous endowment laid the foundation for this repository of knowledge. The Bodleian Library is not only a hub of academic research but also a pivotal institution in safeguarding British culture and historical heritage.
In this awe-inspiring venue, we will explore the architectural style and history of the Bodleian Library while also having the opportunity to marvel at its collection of invaluable manuscripts and books. This library is the essence of Oxford University, carrying centuries of wisdom and knowledge, thereby enriching our Oxford journey with profound cultural significance.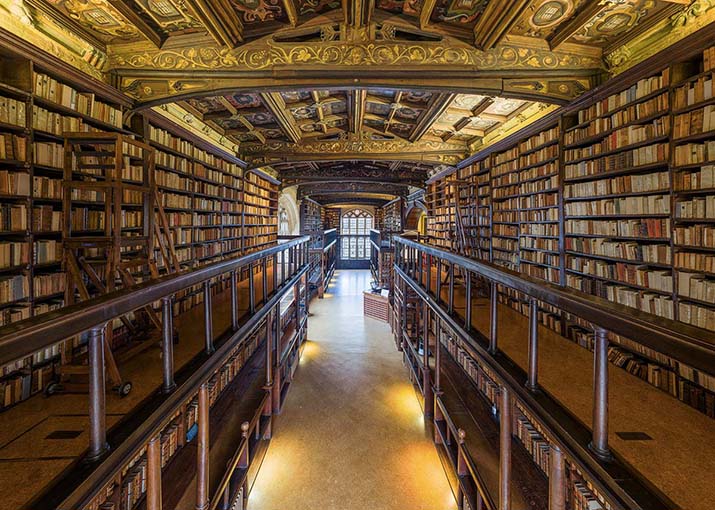 11:30 AM – Christ Church College: A Marvel of Architecture
At 11:30 AM, our journey leads us to Christ Church College, a site where architectural marvel meets the heart of Oxford University. Christ Church College, commonly known as Christ Church, is one of the most iconic and picturesque colleges of Oxford. Founded in 1546, it holds a special place in the history and tradition of the university.
The college is not only renowned for its stunning architecture but also for its connection to some of Oxford's most celebrated figures, including Lewis Carroll, who penned "Alice's Adventures in Wonderland" here. The magnificent Tom Tower, designed by Sir Christopher Wren, serves as the entrance to the college and is an architectural gem worth beholding.
As we explore the college, we'll gain insight into the unique traditions and academic life of Oxford University. Christ Church College stands as a living testament to the rich tapestry of history and knowledge that has thrived within the university's walls, making it a must-see destination for anyone seeking to understand the essence of Oxford University.
Lunch: Savoring the Flavors of Oxford
1:00 PM – The Eagle and Child: A Literary Haven
For an authentic Oxford experience, make your way to The Eagle and Child, a historic pub that holds a special place in the hearts of literary enthusiasts. It was a favored gathering spot for the Inklings, a renowned literary group that included C.S. Lewis and J.R.R. Tolkien among its members. Here, relish a hearty British meal in an ambiance that once kindled the creative sparks for some of the world's most beloved literary works.
Afternoon: An Academic Odyssey
2:30 PM – The Grandeur of the Sheldonian Theatre
In the afternoon, at 2:30, we'll be enchanted by the grandeur of the Sheldonian Theatre, a magnificent structure nestled within the heart of Oxford University. The Sheldonian Theatre, designed by Sir Christopher Wren and built between 1664 and 1669, is an architectural masterpiece that has played a central role in the academic and cultural life of Oxford for centuries.
Designed by the eminent Sir Christopher Wren, the Sheldonian Theatre stands as a magnificent venue used for a variety of university events, including degree ceremonies. Its ceiling, adorned with a stunning fresco by Robert Streater, depicts the triumphant victory of Truth over Ignorance. You may choose to embark on a guided tour, or if your visit aligns with a scheduled event, seize the opportunity to experience the theatre's grandeur firsthand.
This splendid venue serves as the official ceremonial hall of the university, hosting graduation ceremonies, lectures, and various prestigious events. With its stunning classical design and a cupola that offers breathtaking views of Oxford, the Sheldonian Theatre is a testament to the university's commitment to knowledge, culture, and tradition.
We'll have the opportunity to explore the history and significance of the Sheldonian Theatre, gaining a deeper understanding of how this remarkable space continues to be a symbol of academic excellence and a vital part of Oxford's cultural heritage.
3:30 PM – Oxford University Museum of Natural History: Wonders of Nature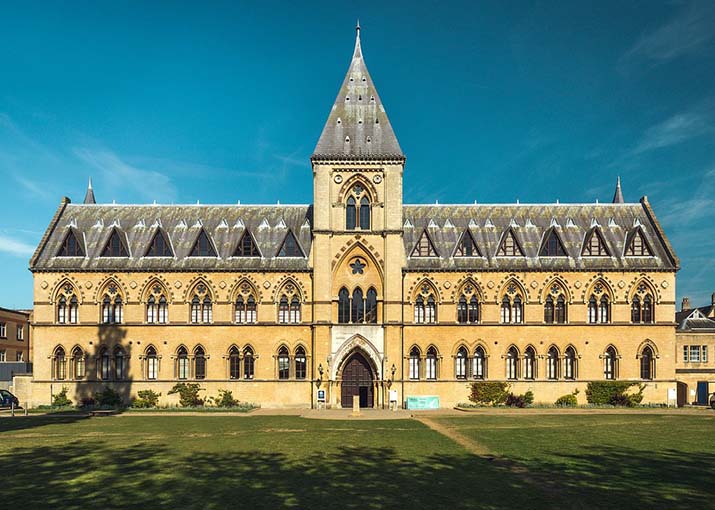 A brief walk will lead you to the Oxford University Museum of Natural History, a treasure trove of scientific wonders. Housed within its neo-Gothic splendor is an extensive collection of specimens, among them the famous Oxford Dodo and a multitude of other natural history exhibits. The museum's architecture is as enthralling as its contents, rendering it a must-visit destination for history and science aficionados alike.
5:00 PM – Blackwell's Bookshop: A Bibliophile's Paradise
Located in close proximity to the museum, Blackwell's Bookshop beckons to bibliophiles. Established in 1879, it ranks among the largest and most illustrious bookshops in the world. Embark on a journey through its extensive collection, investing time in discovering a book that ignites your intellectual curiosity.
Evening: Immersing in Oxford's Cultural Tapestry
7:00 PM – The Timeless Ashmolean Museum
The Ashmolean Museum, founded in 1683, holds the distinction of being the oldest public museum in the United Kingdom. Its exhibits encompass an astonishing array of art and antiquities, ranging from Egyptian mummies to priceless Renaissance paintings. The museum regularly hosts temporary exhibitions that showcase art and culture from various corners of the globe. As the day segues into evening, the museum's captivating collections take on a new dimension.
8:30 PM – A Riverside Sojourn
Stroll along the picturesque banks of the Cherwell River or opt for a guided punt tour, immersing yourself in the tranquil beauty of Oxford as the sun bids adieu. This serene experience provides an ideal opportunity to unwind, soaking in the city's peaceful ambiance.
Dinner: Savoring Oxford's Culinary Delights
10:00 PM – The Turf Tavern: A Culinary Gem
For an unforgettable dining experience, The Turf Tavern beckons. This historic pub boasts a charming outdoor seating area and is renowned for its delectable cuisine and unique ambiance, making it a beloved choice for both locals and visitors.
Nightlife: Oxford's Cultural Hub
11:30 PM – Oxford Playhouse: A Theatrical Extravaganza
At 11:30 PM, as the city sleeps and the stars twinkle above, we make our way to the Oxford Playhouse, an oasis of theatrical brilliance awaiting our presence. The Oxford Playhouse, a venerable institution nestled at the heart of Oxford, promises to be a haven for all things dramatic, offering a diverse repertoire of performances that spans the spectrum from timeless classics to avant-garde contemporary productions.
The Oxford Playhouse, a renowned theater venue, hosts a diverse array of performances, from contemporary plays to classic dramas. Peruse the schedule to ascertain if there's a performance that captivates your interests. It's the perfect culmination of your day, offering an evening of culture and entertainment in an intimate setting.
With a storied history dating back to its establishment in 1938, the Oxford Playhouse carries with it the weight of decades of remarkable performances and the nurturing of countless artistic talents. It stands as a true cultural cornerstone within the city, having played a pivotal role in fostering creativity and expression for local and international artists alike. The theater's intimate and inviting ambiance, perfectly suited for the most discerning theater enthusiasts, ensures that every visit is a unique and immersive experience.
During our visit to the Oxford Playhouse, we'll take a deep dive into its rich history and cultural significance. We might even be fortunate enough to catch a behind-the-scenes glimpse of ongoing rehearsals or the meticulous preparations for an upcoming production. This rare opportunity allows us to become a part of the thriving arts scene that flourishes within the hallowed halls of Oxford, injecting our journey with a dose of dramatic flair and boundless creativity, all set against the backdrop of a starry night sky, promising a truly unforgettable experience.
A day in Oxford is a journey through the realms of history and knowledge. From the ancient halls of the University of Oxford to the hidden corners of this charming city, you will experience a rich tapestry of history, culture, and academic ambiance. The heritage of this world-renowned institution and the allure of the city itself will leave an indelible imprint on your heart. When you bid farewell to Oxford, you will not only carry memories but also a profound appreciation for the knowledge and cultural legacy that has thrived here for centuries.