Edinburgh, a captivating city situated in the eastern part of Scotland, stands as a shining gem on the British Isle of Great Britain. With its rich history, cultural heritage, and magnificent natural landscapes, it has firmly established itself as one of the premier tourist destinations across the globe. Whether one's interests lie in exploring historical architecture, immersing oneself in cultural arts, or basking in the beauty of nature, Edinburgh stands ready to accommodate every desire, enveloping visitors in the unique allure of this remarkable city.
This time, I found myself in the captivating city of Edinburgh. In pursuit of an affordable yet comfortable accommodation experience, I embarked on a journey to explore some of the most budget-friendly hotel choices in this historic city. I will share my own hotel stay and recommend five other economical lodging options in Edinburgh, each with its unique charm.
I'm delighted to share my experience of staying at a hotel in Edinburgh. I chose to stay at an economical lodging called "Edinburgh Lodge," located in the West End of Edinburgh at 6 Hampton Terrace, EH12 5JD. The nightly rates at this hotel range from approximately £50 to £100, making it a highly cost-effective accommodation option I found in Edinburgh.
My Hotel Stay:
Hotel Name: Edinburgh Lodge
Location: 6 Hampton Terrace, West End, Edinburgh, EH12 5JD
Price: £50-£100 per night
Rating: ★★★★☆
Booking Platform: Booking.com
I was delighted to discover Edinburgh Lodge, a cozy gem hidden in the West End of the city. The location was perfect for me as it was within walking distance of several attractions, allowing me to easily explore the city on foot.
Service Experience:
Upon my arrival at Edinburgh Lodge, I received a warm welcome. The staff was very friendly and always willing to provide local recommendations and travel advice about Edinburgh. During my stay, I enjoyed the complimentary breakfast, which was a fantastic service. The breakfast included Scottish specialties like haggis and porridge, which provided a delicious start to my days.
Room Experience:
My room was very clean and featured comfortable furnishings along with modern en-suite facilities. Looking out the window, I could enjoy views of lush gardens, providing a serene environment to start each day. Moreover, the Wi-Fi signal was fast and reliable, which is crucial for travelers who need to stay connected.
Accommodation Experience:
My stay at Edinburgh Lodge exceeded my expectations. The exceptional value for money in this price range made it a remarkable choice. While the limited parking availability was a minor inconvenience, I managed it by utilizing the city's public transportation system.
During my stay in Edinburgh's hostels, I accumulated even deeper experiences and observations:
Social Opportunities: Edinburgh's hostels typically provide communal spaces like lounges or kitchens, making them ideal places to socialize and meet new people. Here, I met travelers from around the world, sharing travel experiences and stories, adding a lot of color to my journey.
Multicultural Experience: As tourists from all over the world choose Edinburgh as their destination, hostels become hubs of multicultural exchange. This gave me the opportunity to try a variety of international cuisines and learn about the traditions and values of different cultures.
Economical Choice: Staying in hostels is not only about saving money but also provides budget-friendly accommodation. This means I could allocate more of my funds to exploring Edinburgh's attractions and activities without worrying about high accommodation costs.
Convenient Locations: Most hostels are located in the city center or in tourist hotspots, making it easy to get to attractions and shopping areas. This saved time and transportation costs, allowing me to focus more on enjoying the city's beauty.
Sense of Security: Edinburgh's hostels typically have good security measures, such as secure lockers, access control systems, and 24-hour front desk service. This made me feael safer during my journey and allowed me to explore without worrying about the security of my personal belongings.
Staying in hostels in Edinburgh has provided me with a vibrant, diverse, and budget-friendly travel experience. It has not only left me with unforgettable memories but also given me the opportunity to make new friends and learn about different cultures – the precious experiences that travel brings. If you're traveling to Edinburgh, consider staying in a youth hostel as it adds many unique elements to your journey.a
Overall Edinburgh Experience:
My experience in Edinburgh was nothing short of satisfaction. Edinburgh Lodge not only offered impeccable service but also boasted a prime location that facilitated easy access to numerous city attractions. This budget-friendly accommodation radiated a sense of coziness and warmth, making me feel as if I had stumbled upon a second home away from home.
While my time in Edinburgh was marked by its overall excellence, I do have one constructive suggestion for improvement. Expanding the parking options would undoubtedly enhance the convenience for travelers who choose to explore the city by car. This simple enhancement could further elevate the already exceptional experience of staying at Edinburgh Lodge and exploring the enchanting city of Edinburgh.
Near my lodging, there were plenty of Edinburgh's tourist attractions to explore, and here is a brief guide to some of them:
Edinburgh Castle: From Edinburgh Lodge, a leisurely walk through Princes Street Gardens takes you to the castle's esplanade. It offers an unforgettable experience with panoramic city views.
The Royal Mile: This historically rich street is conveniently located near many budget-friendly hotels. It is lined with shops, restaurants, and landmarks such as St. Giles' Cathedral and the Palace of Holyroodhouse.
Calton Hill: I set out from Edinburgh Central Youth Hostel and reached Calton Hill quickly. This hill provides stunning views of the city and features various monuments to explore.
Arthur's Seat: A hike to Arthur's Seat is a must for nature enthusiasts. It's a short distance from the youth hostel and offers breathtaking city views from its summit.
The Royal Yacht Britannia: If you stay at the Holiday Inn Express Edinburgh – Waterfront, the Royal Yacht Britannia is just a short walk away. It's a unique and fascinating attraction that offers a glimpse into royal life.
Recommended Budget-Friendly Hotels: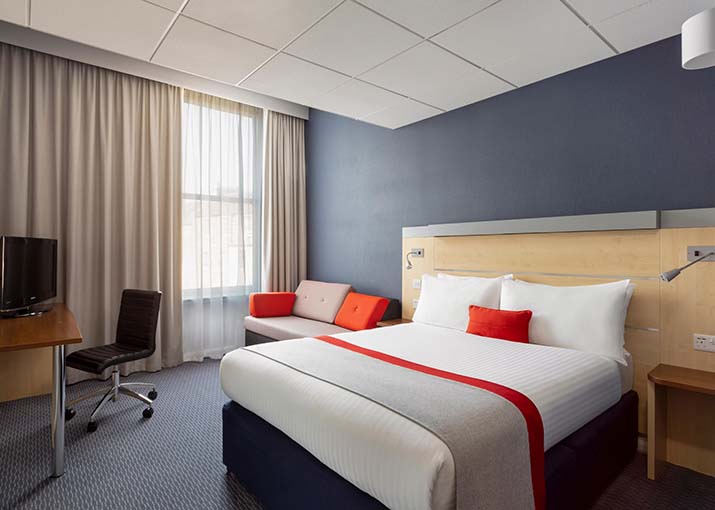 Holiday Inn Express Edinburgh – Waterfront
Location: Britannia Way, Ocean Drive, Edinburgh, EH6 6LA
Price: £60-£120 per night
Rating: ★★★★☆
Booking Platform: Expedia This hotel is ideal for travelers seeking a waterfront experience. The rooms are comfortable, and the complimentary hot breakfast is a great way to start your day. It's conveniently located near the Royal Yacht Britannia and offers stunning views of the harbor.
Tune Hotel Haymarket
Location: 7 Clifton Terrace, Haymarket, Edinburgh, EH12 5DR
Price: £40-£80 per night
Rating: ★★★☆☆
Booking Platform: Tune Hotels Tune Hotel Haymarket is perfect for budget-conscious travelers. While rooms are compact, the price is unbeatable. The location, just a short walk from Haymarket train station, offers excellent connectivity to the city center.
Ibis Styles Edinburgh Centre St Andrew Square
Location: 19 St Andrew Square, Edinburgh, EH2 1AU
Price: £70-£130 per night
Rating: ★★★★☆
Booking Platform: AccorHotels This vibrant hotel in the heart of the city is known for its unique, stylish design. The inclusive breakfast, the chic bar, and its central location make it a top choice. It's within walking distance of the National Museum of Scotland and the Royal Mile.
Edinburgh Central Youth Hostel
Location: 9 Haddington Place, Edinburgh, EH7 4AL
Price: £20-£60 per night (dormitory rooms)
Rating: ★★★☆☆
Booking Platform: Hostelworld For the budget-conscious traveler, this youth hostel offers affordable dormitory-style accommodation. The social atmosphere is great for meeting fellow travelers. It's conveniently located for exploring Calton Hill and Arthur's Seat.
Motel One Edinburgh-Princes
Location: 10-15 Princes Street, Edinburgh, EH2 2AN
Price: £80-£140 per night
Rating: ★★★★☆
Booking Platform: Motel One Motel One offers a sleek and modern experience. The central location on Princes Street is perfect for shopping and exploring the city. The comfortable rooms, along with the One Lounge bar, make for a pleasant stay.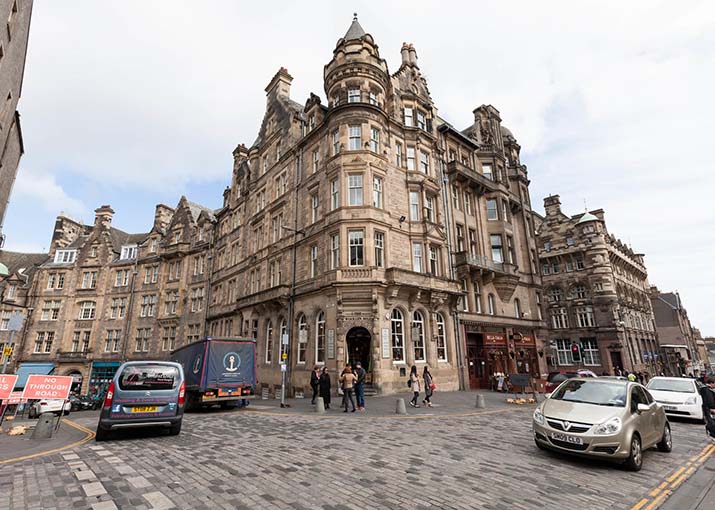 Comparative Analysis:
Edinburgh Lodge stands out as a budget-friendly option with a homey atmosphere, while the Tune Hotel Haymarket offers the most economical choice. The Ibis Styles Edinburgh Centre St Andrew Square provides a balance between cost and comfort, especially for those who appreciate style. If you're on a tight budget, the Edinburgh Central Youth Hostel is the way to go, offering shared dormitory rooms. For those looking for a touch of luxury at an affordable price, Motel One Edinburgh-Princes is an excellent choice.
Personal Reflection:
My stay at Edinburgh Lodge was delightful, and I truly felt like I had found a home away from home. The staff's warm hospitality, comfortable accommodations, and the convenient location made my Edinburgh exploration all the more enjoyable. The only improvement I would suggest is to expand the parking options, as it could be a concern for travelers with vehicles.
Edinburgh offers a plethora of budget-friendly accommodation options, making it an ideal destination for travelers of all kinds. Whether you opt for the quaint charm of an Edinburgh hostel, go for the unbeatable prices at Haymarket Tune Hotel, or explore any other recommended choices, you'll discover that Edinburgh's history and culture are within easy reach without breaking the bank. The city's beauty, coupled with the comfort and affordability of these lodgings, has truly enriched my journey. Edinburgh's winding streets, ancient castles, stunning landmarks, and vibrant cultural activities await you. Regardless of your budget, the accommodation you choose, be it traditional or modern, will provide you with a warm and cozy haven to make you feel right at home while you explore this captivating city. Therefore, regardless of your financial constraints, you can savor an unforgettable experience in Edinburgh.
Edinburgh is a city teeming with charm and vibrancy, boasting a profound history and culture, alongside breathtaking natural scenery. In every regard, the city exudes an inexhaustible appeal. Regardless of whether your interests lead you to trace the footprints of history, appreciate artistic masterpieces, or become lost in the cradle of nature, Edinburgh promises unforgettable experiences. A visit to this city will leave you deeply enchanted, with cherished memories that will undoubtedly beckon you to return.